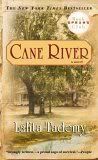 Our book for March 2007 is Cane River, by Lalita Tademy. It is a "Sherry Pick."






Menu: southern baked beans, sweet potato casserole, southern bread, homemade cornbread and honey butter, and peach cobbler (Lalita Tademy's recipe found in The Book Club Cookbook)

Click on the book to learn more at Amazon.