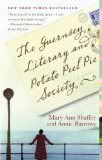 *A 2009 FOOD FOR THOUGHT PICK


Our book for August 2009 is The Guernsey Literary and Potato Peel Pie Society, by Mary Ann Shaffer. It is a "Pat M. Pick."

Menu: salsa with chips, applesauce-spice bars, chocolate cake with white icing and dark chocolate shavings, prosciutto wrapped mozzarella, mixed nuts and dried fruits, wacky cake, baba ghanouj with various crackers, olives, and tomatoes, pigs in a blanket with mustard sauce

Click on the book to learn more at Amazon.