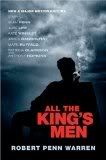 Our book for September 2009 is All the King's Men, by Robert Penn Warren. It is a "Mark M. Pick."

Menu: southern style pork sausage stuffed mushrooms, roasted nectarines and custard sauce, honey-roasted nuts, sparkling raspberry-grape juice, chocolate-covered cream puffs, assorted nuts, chocolate biscotti, sweet potato chips and cheese platter.

Click on the book to learn more at Amazon.