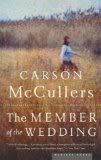 Our book for January 2009 is The Member of the Wedding, by Carson McCullers. It is a "Peggy Pick."

Menu: southern cocktail meatballs, Asiago cheese spread and crackers, salad, Amish friendship bread, chocolate chip cookies, scrumptious mushroom turnovers,ambrosia, and sugar cookies

Click on the book to learn more at Amazon.