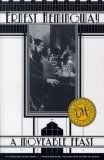 *A 2008 Food For Thought Pick

Our book for September 2008 is A Moveable Feast, by Ernest Hemingway. It is a "Mark F. Pick."

Menu: pigs in a blanket (meant to represent cervelas de crustaces), Spanish olives, baguettes and layered Brie and pesto dip, cream puffs, non-alcoholic wine, bread and peach jam, organic tomatoes and basil drizzled with olive oil.

Click on the book to learn more at Amazon.