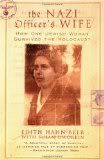 Our book for February 2011 is The Nazi Officer's Wife, by Edith H. Beer. It is a "Shawn Pick."

Menu: nuts and fruit mix; Brie cheese, crackers, and peach butter; baked potato soup and toppings; German potato salad; coconut cream pie


Click on the book to learn more at Amazon.