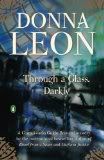 Our book for August 2010 is Through a Glass Darkly, by Donna Leon. It is a "Pat M. Pick."

Menu: melon wrapped in prosciutto/capicola ham; ham and artichoke heart lasagna; dark chocolate mousse; ham and artichoke won tons with fresh basil


Click on the book to learn more at Amazon.