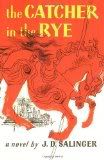 Our book for February 2010 is The Catcher in the Rye, by J.D. Salinger. It is a "Mark F. Pick."

Menu: homemade rye bread, butter, and swiss cheese; peanut butter oat bars; chocolate brownies; cake with blueberries; malted milk; Swiss cheese and Triscuits; tuna salad ("catch") on rye triangles; vegetables and ranch; chips and salsa; and rye circles and Swiss squares.

Click on the book to learn more at Amazon.