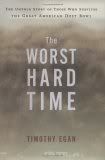 Our book for May 2007 is The Worst Hard Time, by Timothy Egan. It is a "Pat K. Pick."






Menu: frozen chocolate crunch pie made with "rocks," Texas sheet cake, whole grain pretzels and cheese, saltines and cheese, and "depression cookies"--saltine sandwiches with buttercream frosting

Click on the book to learn more at Amazon.