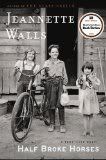 Our book for June 2010 is Half Broke Horses, by Jeannette Walls. It is a "Sherry Pick."

Menu: goat cheeses and crackers, fresh watermelon, cream cheese with red pepper jelly and crackers, pecans, lime water and black cherry drinks with fresh lime, white bean dish, herb biscuits, baked beans, "Cowboy Food," sparkling peaches

Click on the book to learn more at Amazon.