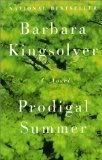 Our book for February 2009 is Prodigal Summer, by Barbara Kingsolver. It is a "Rebecca Pick."

Menu: spring flower cake, several layer bean dip with chips, blueberry cheesecake dessert, cornbread and raisins, homemade breadsticks, "death by chocolate" cake, homemade bread, and whoopee pie cookies


Click on the book to learn more at Amazon.