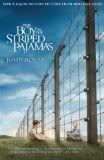 *A 2009 FOOD FOR THOUGHT PICK

Our book for July 2009 is The Boy in the Striped Pajamas, by John Boyne. It is a "Judy Pick."

Menu: homemade breads and butters and cheeses; chocolate brownies; striped coconut, chocolate, and pecan brownies; German Pancakes;chocolate chip cookies

Click on the book to learn more at Amazon.