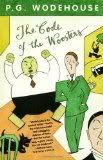 Our book for March 2011 is The Code of the Woosters, by P.G. Wodehouse. It is a "Pat K. Pick."

Menu: birthday cake and ice cream (Happy Birthday, Sherry!); potato crusted quiches; 5-layer cheddar cheese, Stilton cheese, and Gorgonzola spread with homemade spinach bread and pita chips; scones with jam (jelly) and cream; strawberry-lemon shortcake

Click on the book to learn more at Amazon.