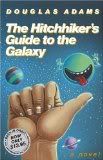 Our book for October 2009 is The Hitchhiker's Guide to the Galaxy, by Douglas Adams. It is a "Pat K. Pick."

Menu: spiral galaxy tortilla pinwheels, the best vegetable rice in the Universe, pumpkin chocolate chip cookies, pumpkin streusel cake, pumpkin soup, corn bread with butter and honey, assorted nuts and chocolates, disorganized mushroom spread (matter) on toast.

Click on the book to learn more at Amazon.