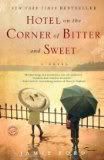 Our book for January 2011 is Hotel on the Corner of Bitter and Sweet, by Jamie Ford. It is a "Rebecca Pick."

*2011 FOOD FOR THOUGHT PICK

Menu: sourdough bread and homemade peach jam; rice crackers with cheese spreads and wasabi sauce; fruit salad with lychee fruit; homemade rolls and butters and apple butter; crackers with salmon spread; sausage-pasta-tomato stew; Chinese dumplings; various Chinese "dim sum" finger foods/appetizers

Click on the book to learn more at Amazon.