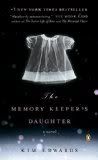 *A 2008 Food For Thought Pick

Our book for October 2008 is The Memory Keeper's Daughter, by Kim Edwards. It is a "Cristin Pick."


Menu: spinach-artichoke-cheese dip and crackers, one-layer apple cake with caramel frosting, Barley Pilaf, chocolate-filled and cream cheese-cinnamon crepes with various toppings, mixed nuts, citrus lemon squares, pumpkin cake, fresh dates and fresh pomegranate seeds, black olive tapenade and crackers, and pumpkin tarts with cream cheese frosting



Click on the book to learn more at Amazon.